*revised on November 9, 2012*
Songs:
Books:
Movies/Documentaries/Short Films:
Places of Support:
Memorials/Keepsakes:
(A lot of these places offer beautiful keepsakes, free of charge. If you see a Donate button on their website, consider giving to them so they can continue serving the babyloss community in the amazing way that they do.)
Special Dates to Remember:
October is Pregnancy and Infant Loss Awareness Month
Things to Participate In:
Your Local Walk to Remember or Candelighting Service (Google these things)
Jewelry:
Connect With Other Loss Parents through Blogging:
(if you would like to start a blog to work through your grief,
Franchesca at Small Bird Studios
designs blogs and extends a
20% discount
to those blogging about the loss of a child, those facing infertility, and those adopting a child.)
When You Know Someone Who Loses a Baby:
Places That Help With Infant Funeral/Burial Costs and Headstones:
If you know of any other resources that could be added to this list, please leave a comment or email me at roseandherlily(at)gmail(dot)com.
~~~~~~~~~~~~~~~~~~~~~~~~~~~~~~~~~~~~~
Grab this button to add to your blog or website!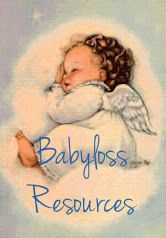 <div align="center"><a href="http://www.roseandherlily.com/2010/07/resources.html" title="Rose and Her Lily"><img src="http://i942.photobucket.com/albums/ad263/roseandherlily/BabylossResources.jpg" alt="Rose and Her Lily" style="border:none;" /></a></div>